Movement 4 Health is a partnership between husband and wife team: Geoffrey Fielding and Isabel Jones Fielding, both are dedicated Iyengar Yoga teachers, and just returned from 2 months Iyengar Yoga study in India.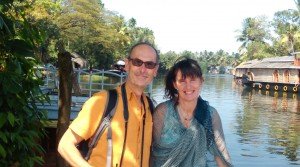 Isabel qualified as an Iyengar teacher in 2001 and Geoffrey in 2010. With more than 23 years each of study as Iyengar yoga students and the same length of time as a couple exploring and learning the subject together, we aim to bring depth to the subject, enjoyment and to reach everyone.
We have both studied with the Iyengar family at the mother Institute in Pune India, and attended 3 international conventions with Geeta Iyengar, and have been trained by some of the UK's most senior teachers including Margaret Austin and Jayne Orton. We share a passion for the study of yoga, human movement and the realisation of wellbeing for everyone.

Isabel has been teaching for 15 years, and is qualified as an Iyengar Intermediate Level 3 teacher. A very dedicated teacher, Isabel has developed an enthusiastic following of students who include beginners, advanced students and yoga teachers studying with her on a regular basis.
Isabel also plays an active role in the UK Iyengar Yoga association, as chair of the events committee which involves organising the annual yoga convention for 300 – 600 yogis and working closely with senior Indian teachers and team of colleagues to deliver it. Isabel is also the director of a very successful arts charity Salamanda Tandem, now in it's 25th year, where she works as a composer, singer and choreographer. She is an international pioneer in movement/music interaction with children on the autistic spectrum.
Geoffrey is an Intermediate Level 1 Iyengar Teacher, and is co-director of movement4health. Geoffrey also brings 2 decades of experience as a registered Osteopath, qualifying from the European School of Osteopathy in 1991. As a primary healthcare practitioner he is also an expert in back care and muscular-skeletal problems. Geoffrey and Isabel often co-teach their weekly classes, so students can be sure of expert attention.
In 1998 Geoffrey is also qualified as a Modern Pilates teacher, and runs a weekly class at the West Bridgford Bowls Club to support bowlers over the winter. Geoffrey is also a professional photographer, and works with Isabel and Salamanda Tandem as photographer on all their art projects.
Together Isabel and Geoffrey set up Movement 4 Health to reach a wide spectrum of people, including people living in our immediate West Bridgford community, movement and dance professionals, older people, people with remedial problems or injuries, disabled people and those interested in health and wellbeing.
Movement for Health provide:
4 Weekly Classes in Iyengar Yoga, held in central West Bridgford led by Isabel and Geoffrey.
Monthly Weekend Iyengar Yoga workshops held in Central West Bridgford led by Isabel
Individual consultations and Osteopathic treatments held in Geoffrey's osteopathic practice at home and in Derby
Weekly Classes led by Geoffrey in Back Care in central west bridgford
Residential Iyengar yoga retreats for all students to beautiful places: e.g. regular events in Snowdonia and South Derbyshire
Consultancy projects that build up wellbeing and creativity for disabled and older people
Professional Development workshop programs for education, care, health and arts practitioners
This is a picture of our Fully Equipped Home Practice Studio, opposite West Bridgford park, with a special Iyengar Yoga rope wall built by Geoffrey and modeled on a design from California.