Well it's been 10 days since we departed for a 36 hour trip to the backwaters and the Arabian Sea. You know it's one of those things, it doesn't seem to be the volume of experience but the degree one can immerse in it, that generates the most profound changes.
I think it would be fair to say that we've spent a lot of time doing very little and reflecting a lot. We've not had internet access so it's been a case of journal writing, yoga practice, shopping trips, meals out and trips to the glorious backwaters to soak in the breeze. I have a lovely book made from recycled rags and each sheet has a flower or reed somehow woven into it's fabric, so writing in it is a very attractive prospect when I open it. The humidity does not lend itself to big sight seeing trips or adventurous climbs, but listening seems to be a big part of our time here in Kerala and I've started a new location recording journal as a web site. Lots of stuff there for the avid listener, and lots for me to work with when I get back.
Going back briefly to Pune, I've had the chance to listen back to all the recordings I made there and in particular load up this for listening. I particularly like the dynamic atmosphere of Laxmi Road and the lift shaft up to floor 5 of the multi storey building where we found cutting and sewing rooms one after another full with tailors. This is where my sari was made and I feel incredibly glad to have witnessed such a location and managed to record it bynaurally. This sort of recording generates a sense of complete surround sound, so listen with headphones for the full affect.
I've been up more times at 5am than I have in my entire life time!! The sounds fascinate me at that time of day. 4 days ago Geoffrey woke in the early hours and heard the most beautiful sound of a wooden pipe traveling across the breeze. I didn't hear it, but the following nights I did and I sat outside in the dark to attempt a bynaural recording. Given the ants and the mosquitoes and the general heat it's taken me 3 attempts to get something and even then it wasn't what I expected. Certainly I felt frustrated with myself for fidgeting in an attempt to ignore the insects.
Here is the recording, I took today before dawn warts and all!
Geoffrey has been reading a fair amount, whilst trying to identify a beautiful long tailed flecked bird we've seen in close proximity to the red eyed coukal. Still yet to be identified. He has taken some beautiful photographs,and I have spent hours making music, being captivated by the drone of the harmonium and trying over and over again to record the illusive coukal, which sings loud and clear until I turn on my sony recording device. I think it would be fair to say that I've been longing not to hear the crow. But given we are now 6 weeks in and I've not gone a single day without hearing it I don't think that is likely. As Prashant said, we shouldn't be looking for something else! So now I accept it's all about the crow!!! Or in the case of these early hour recordings I've been attempting: the glorious absence of it when asleep.
Geoffrey is currently practicing as I write this, we've been able to create a yoga space here and use our 8 blankets, lovely wooden brick, cotton doughnuts and belts effectively, and we realise that although the heat makes vigorous activity difficult, it certainly helps to move hips and legs and one feels as though there is a flow.
I haven't said a thing about the backwaters: incredible! and here are a few of Geoffrey's Photographs.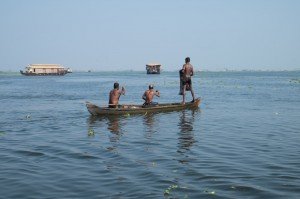 Tomorrow we depart by train for Kovalam for the last 2 weeks of our trip.