It's Christmas Eve, and this is a photograph Geoffrey took of the shrine right at the top of The Iyengar Memorial Institute. Many narrow metal steps up, to a platform that used to be the highest spot in the area, even now it's above the trees. The shrine had just been washed and prepared with flowers and we received a little saffron water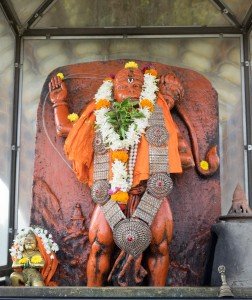 We also arrived by total chance at an awe inspiring Ganesh shrine last night, the photograph Geoffrey took has become our Christmas card
Laxmi Rd in what could be the busiest place on earth, and parts of it are very old medieval.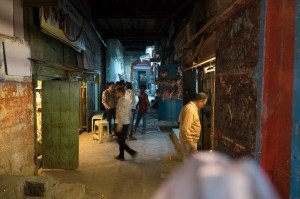 We turned a corner, in the market just off Laxmi Rd amidst the pots and pans, cheap clothes, trinkets, stall awnings and trestle tops, enormous sacs, and people, the sheer volume of people, and there was the Ganesh shrine. It's a giant, as tall as 2 elephants on top of each other and as wide.
This is ground level Laxmi Rd, one man burns incense from a metal pot, whilst another strips sugar cane ready to sell – typical of Laxmi Rd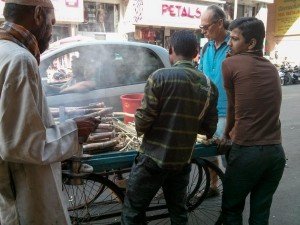 Well one asks why we were there, no Christmas shopping to do, no stockings to fill or food to prepare, no lists to complete, no time frame to do it all in, no early closing, no trip to M and S, no lights to fix, vacuuming up or last minute things to do.
But I am going to have a Christmas present: a turquoise and aubergine sari!
On Sunday I was dressed in a sari by the lovely woman who looks after our flat, I'd been trying to wrap lovely batik piece of cloth around my waist and a shawl in an attempt to feel right. On purpose, I brought very few clothes from England and the things I had felt too tight or hot. She saw my challenge and helped me put it right, loaning me a sari of hers and showing me how it worked. I enjoyed it very much and felt cool, so hence we headed to Laxmi road to purchase one that I could travel with over the remaining 6 weeks. And therein began a fascinating little adventure for Geoffrey and I from the white mattress covered shop floor to the tailor and the hand machine sewing and cutting rooms on floor 5 of a building above Laxmi Rd……
Of course, many people have trodden the same path, encountered the sheer volume of sound and colour, and experienced the hair raising trip by rickshaw in rush hour to Laxmi Rd, but it's very new to us, and we're still seeing things like children with fresh eyes. It's mesmerizing, and the Ganesh shrine was exactly that.
For Christmas eve we've just been to the Hare Krishna Mandir temple opposite our flat for Christmas carols – all the deity's are embraced there. So one sees a figure of Christ, next to Ganesh, next to Khrisna, next to photographs of current teachers. A wonderful place with a garden and open windows and doors all candle lit. We arrived and could hear music 2 men were playing instruments, 1 played a drum with 2 ends and the other a harmonium (a keyboard with bellows), a small number of people were sitting cross legged on the floor. I wore my new sari. A beautiful woman came to greet me and I said I'd been having difficulties with it, she kindly took me to a little room through several other little rooms apparently I'd chosen a very difficult sari to get right and it took 2 women to sort it out for me. She had been taught by Iyengar back in the 1970's. Geoffrey and I then went into a lovely airy room and sat cross legged, good that we've been getting used to it! and I felt very happy in my sari, plenty of room for leg movements. The occasion unfolded and was very lovely, with a group of people singing carols, cheerfully and well with good rhythm and a guitar, my favorite was one about the drum rat ta ta tum and all the syncopation came out in their singing. And it really was very funny when they sang frosty the snowman, and we realised how unlikely snow was to fall just there.
We went home and ate some left overs and Geoffrey took this photograph of me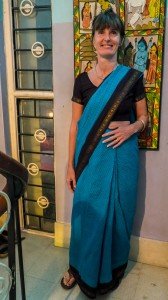 Happy Christmas!!